Making a Difference: Dreams and Daring to Do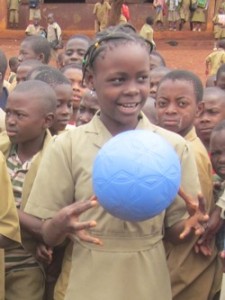 Never underestimate the power of dreams and the influence of the human spirit. 
We are all the same in this notion. 
The potential for greatness lives within each of us.~Wilma Rudolph
(The "fastest woman in the world" at the 1960 Olympics winning three gold medals, she had worn metal braces on her legs as a child.)
 Making a Difference: Dreams and Daring to Do
One evening, while sitting at home watching the news on television, Tim Jahnigen saw a film piece with a group of children, young refugees from Darfur, surrounded by barbed wire and playing a game of soccer in a hot and dusty field. Their "ball" – a makeshift collection of trash, compressed and tied together with twine.  

Jahnigen, a songwriter, producer and inventor became determined to design a ball that children, the world over, could use, anywhere; a ball that would never wear out, never go flat, never need a pump."

In a chance meeting with the musician, Sting, Ted Jahnigen described his dream and with Sting's support the research, development and production of the indestructible futbol concept soon became a reality, and the "One World Futbol Project" was created.

We can all be inspired by Jahnigen's dream around how an idea can touch the world for good.  And, we can participate in the greatness around this project – for every One World Futbol that is purchased, a second ball is given to a community in need through organizations working in communities that include, refugee camps, war zones, disaster areas and inner cities.

To learn more, go to:
http://www.oneworldfutbol.com/shop/one-world-futbol/
Susan Jewkes Allen, MSW, GCDF – Career Counselor, LifeWork Integration Coach; San Francisco Bay Area