Interview Tips for Success: Tell Your Story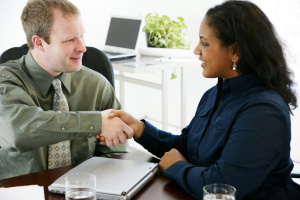 Interview Tips for Success: Tell Your Story
To truly stand out from the crowd of candidates and leave a positive, lasting impression, there is nothing quite as powerful as a good story ( or two or three).
There are many "tips" for successful interviewing: Doing the "homework" to research the organization, mastering physical presentation – from posture to handshake to attire, knowing one's resume inside and out.
However, impressions with the greatest impact can made through storytelling; a good story connects us to one another and speaks to our hearts – which, with all things being equal between candidates, is where many hiring decisions are ultimately made.
Stories tell others about who we are, builds rapport, and reinforces memory.  Stories can help us present ourselves with more confidence and demonstrate our authenticity.
I encourage my clients to create a narrative about who they are by describing their value proposition:
Their unique combination of Personal/Professional Qualities, Skills, Experiences (PQSE) – through stories.
Here is what I suggest:
Craft Your 3 Essential Stories
 Success – Describe a time when you applied your unique combination of personal/professional qualities, skills, experience (PQSE) to a situation and everything turned out well…when you were challenged, overcame a setback or realized an audacious goal with a sense of satisfaction, accomplishment and fulfillment.
 Failure – Describe a time when an event, project or goal did not work out the way you had hoped or planned.  The key to this story is to demonstrate that you have the resilience and insight to utilize failure as an opportunity for learning and personal-professional growth – contributing to your "PQSE"
Inspiration – Describe a time when someone, something positively impacted your personal-professional development and growth.  This can be a person, an event, that is from direct experience or it can be historical-cultural.  This is something that can demonstrate essential elements of your personal values/beliefs/qualities…leadership, resilience, faith, perseverance.
Posted by: Susan Jewkes Allen, MSW, GCDF   
San Francisco Bay Area Career Counselor, Career Coach at Life + Work